I've had a fair amount of Maker's Mark in my day. Any time I'm at my Dad's house, there is always a 1.75 liter bottle above the fridge. It's the only bourbon he drinks, and if I'm there, it's what I'm drinking too. I've tried to get him to branch out a bit by gifting him different bottles on birthdays and Father's Days, but he keeps going back to the Mark. I finally found the key to success is just getting him special wax releases, and the ultimate gift, a hand-dipped-by-me bottle from my distillery tour last year. Maker's Mark will always make me think of my Dad, and with Father's Day being this week I felt it was an appropriate time to write this one up. Due to the ease of access I have to this brand at Dad's house, it's never been on my list to purchase a bottle of this for myself…until this release.
Maker's Mark doesn't have a vast line of expressions like most other distilleries, hell they really only made one product for over 50 years. In 2010 they released Maker's 46, the classic Maker's Mark plus a few months of extra aging with some French Oak staves, and now, almost 5 years later, we get the original product at barrel strength. Finally. Time to drink some.
Company: Beam Suntory
Distillery:  Maker's Mark Distillery
Location: Loretto, Kentucky
Mashbill: 70% corn/16% wheat/14% malted barley
Age:  NAS (5-6 years per their distillery tour)
ABV: 56.7% (113.3 proof)
Released: Late 2014, Ongoing
Price: $35 (375ml)
Color: Deep amber
Nose: There is some serious alcohol on this nose, so letting it hang out for 15 minutes or so is a must. Once that burn dissipates a bit, there are great sweet notes of brown sugar, vanilla, some dark fruits, and cinnamon. A drop of water or two really brings out some caramel and does away with the rest of that ethanol burn.
Taste: Right out of the gate there is tons of sweet vanilla. Behind the vanilla pop comes some mellow oak, honey, and some kind of citrusy notes. A nice cinnamon heat is present in there too, which balances out the sweetness pretty well. This bourbon has a really great creamy texture to this stuff that goes great with the sweet profile.
Finish: That rich texture leaves you with your mouth coated in vanilla and oak with a lingering sweetness and fading cinnamon.
Overall: I would be totally on board with Maker's Mark deciding that this is the only expression they are going to produce for the next 50 years. While I like OG Maker's, this stuff really takes it to the next level and puts the flavors over the top. I generally don't replace a finished bottle with the same sauce, but when this 375ml bottle is empty, I'll probably be springing for a full size-er to take its place.
Rating: 4/5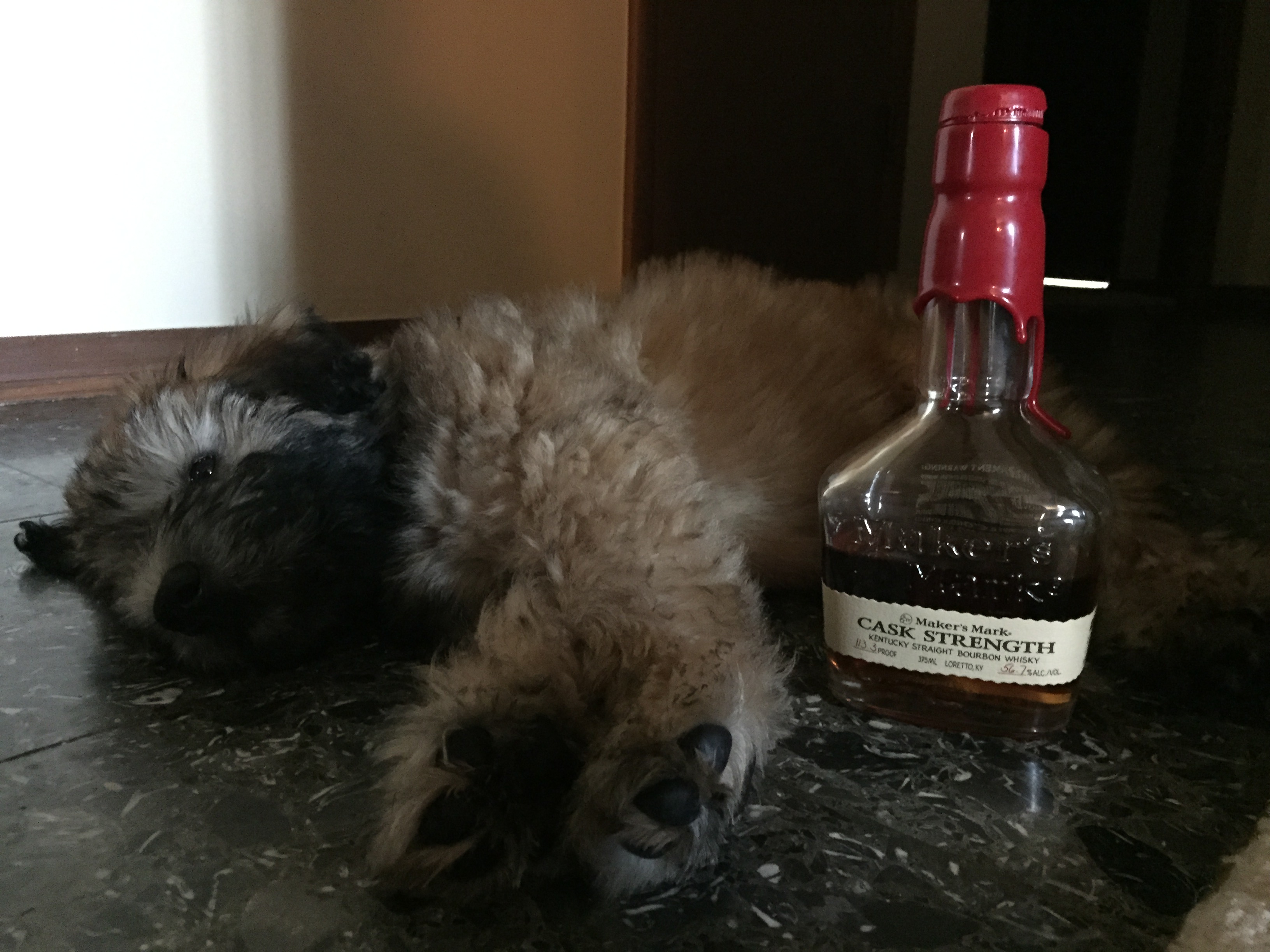 Wheaten Terriers love Wheated Bourbons