Another Oklahoma Craft Beer Festival has come and gone, and it was a damn fun one!  Since this is the first year of OCBF that Barrels and Mash has been a thing, we were trying to figure out how we should mark the occasion as the 3 of us were walking around drinking things all afternoon. Initially a "Best X Beers of the Festival" seemed like good call, but once we got a few brews under our belts, we decided it would be more our style to also hand out some more creative (and obviously more prestigious) awards as well. Since this was a spur of the moment decision we don't actually have any physical awards to hand out, but honestly that just leaves more room for improvement for next go round, much like everything else about this site.  So, without further ado, we present the first annual Barrels and Mash Oklahoma Craft Beer Festival Awards. Huzzah!
---
Best Overall Beer: American Solera Foeder Cerise
I won't go into much detail here other than saying this beer was amazingly complex, it went pretty quick, and it reinforced the decision that both Justin and I made in regards to throwing down over $300 each to join the American Solera Society. We cant wait to try more of these delicious beers, and we look forward to writing them up on the site once the project officially launches in late August.
Best Homebrew: Zach French's Cherry Sour
Late Friday after pouring beers all evening,  I was able to stop by Zach's booth and try some of his Cherry Sour (I apologize if there is an official name for it), and none of the other home brews I was able to check out Saturday was able to top it. Not to say there weren't solid ones, but that Cherry Sour was just plain delicious. Great job, Zach.
Best Brewery in Planning: Stone Cloud Brewing
We hope to spend some time with the brain(s) behind this brewery in the months to come, but trust us when we say that it's obvious that good things will be coming out of this place. The Elágrad Strawberry Sour and Russian Arête Coffee Vanilla Stout were especially delicious.
Sourest Beer: Twisted Spike Funkytown Kriek
Holy crap this beer is sour, but man is it delicious! Twisted Spike is set to open in the next couple of months, and the Funkytown line of beers is gonna pucker you up real good.
Best Beer We Don't Know How to Pronounce: Elk Valley Faute de Frappe
This one off Belgium was flat out delicious, one of our favorites of the whole festival, and talking to John Elkins about it is a real treat as well. His delicious farmhouse, Le Ferme, was actually supposed to be La Ferme which means 'The Farm'. Instead, the name of the beer apparently means something more like "closed", which is hilarious. John didn't realize the typo until after the labels were on the bottles and he was sipping on one checking for carb levels. So, he decided the next Belgium-inspired brew he whipped up would be called "typo" in French, and Faute de Frappe was born!
Best Conversation: Trae Carson
If you know Trae, it shouldn't be a surprise that he was a player in the most entertaining conversation of the weekend. It was tough competition, however, as I also had a pretty solid interaction with a random girl about sneezing, but ultimately Trae and his ways took the cake. While I have no desire to (and honestly couldn't if I tried) recount all the things we discussed, I'll just just touch on some key topics/debates and leave it at that:
Is Tequila Gross? (I say yes, Trae says no, Justin is in the middle)
Cherry Limeades
Artificial Whiskey Aging
Self Driving Cars (and this bullshit)
The Future
Best Tap Handles: Vanessa House Beer Co.
You had me at Marvel.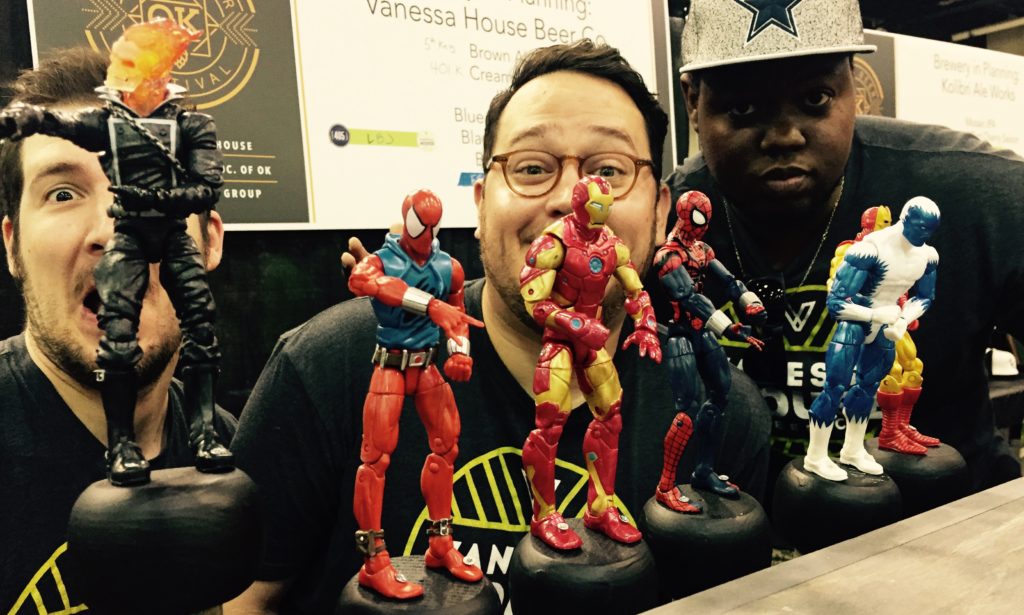 Fastest Sell Out: Prairie Artisan Ales Pirate Bomb
Bottles got popped at 3:00 and were gone at 3:08. Boom.
Bonus Award – Best Justin Story: That Crazy Shit About Armadillo Tails
So we're talking to Todd at Dead Armadillo  and Justin goes off on this story about his Boy Scout troop or something and about how the troop leader guys would chop off the tails of dead armadillos whenever they would see them on the road. They would then dry them, hollow them out, and when you became a full member of the troop, the tails would be used as some kind of sick necklace. There are definitely some details I'm missing here, but it doesn't matter, it was a weird-ass story and it would be wrong of me to not mention it here.
---
Well this was a blast! We hope you enjoyed reading our little awards as much as we enjoyed making them up! Maybe next year we'll try to make things more official so the winners really have something to brag about…except Justin…because that story was weird.