There are times when I realize that I suck and I've completely forgotten to write something I meant to write months ago. This is one of those times. Buckle up for a ride in the Barrels and Mash time machine.
Back in February, Kate and I took a trip up to Kansas City for my birthday weekend. We've got quite a few friends up there, and one of them has a birthday the day before mine. Every couple of years we meet either in KC or OKC and have a "Birthday Explosion" where we basically just drink a lot and act like children. Toys are purchased, piñatas are destroyed, and fake money normally ends up all over the place. It's a blast.
So whilst in KC for Birthday Explosion 2016, a small group of us decided to head to Tom's Town Distilling Company which had just opened. We hit it for a tour, some drinks, and a great conversation with the owner, Steve Revare.
The first thing that struck us was the overall style of the place. Everything is decked out with brilliant gold trim and the overall vibe is straight out of Boardwalk Empire. We were there on a Friday night and the place was packed with people eating small plates and sipping on craft cocktails.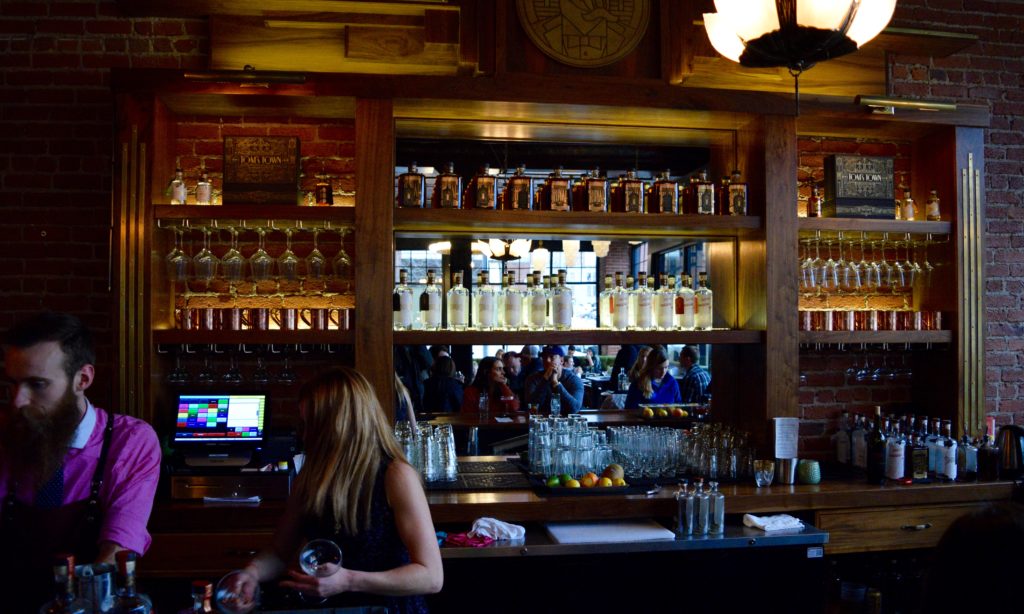 As the tour began, we were greeted by Steve in a video explaining the history of Tom's Town and it's namesake, a corrupt political boss named Tom Pendergast. It was then time to roll into the heard of the distillery which sported two immaculate column stills as well as three of the coolest looking beer fermenters I've ever seen.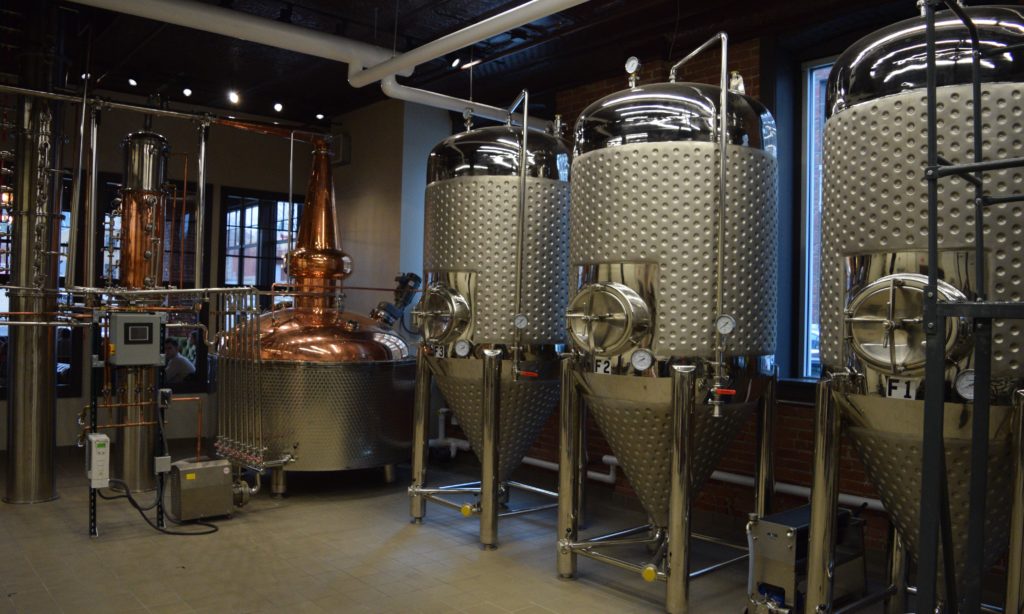 The opposite corner of the room housed shelves that were lined with small vials of this and that. Steve explained that most of them held single-ingredient gins which were used to dial in the recipe of the final product, Corruption Gin. Distillate would be run through one ingredient at a time (long pepper, juniper, various other botanicals, etc.), then the distiller would blend the juices in different ratios to figure out what the eventual botanical bill of the gin would be. This prevented them from having to make batch after batch to get it right. While I'm not a huge Gin fan, this stuff is actually damn good. The recipe is very long pepper-forward and not overly floral which is what normally throws me off.
Next up on the tour was the barrel room. mmmm barrels.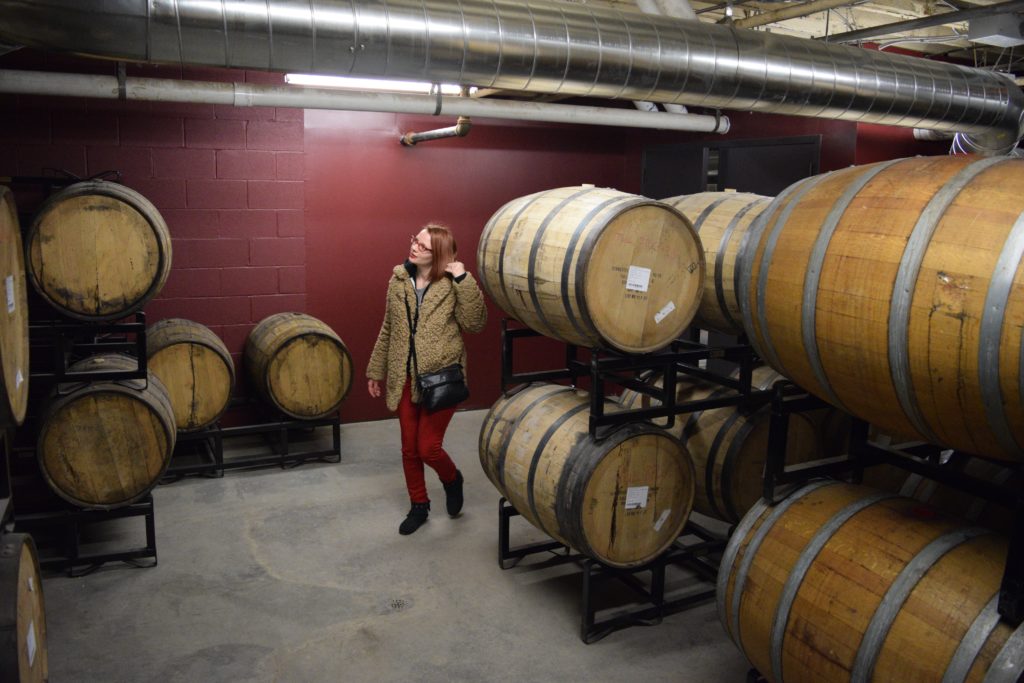 As with most new distilleries, Tom's Town is focusing on clear spirits while they get the whiskey going. As we walked through the room, it was full of Tennessee whiskey and whiskey aging in port barrels which Tom's Town had curated. They'll be releasing these expressions first before producing their own whiskey down the road, which makes perfect sense.
The first whiskey release from Tom's Town is a 10-year old Bourbon distilled at MGP. At the time, the only way to take any home was by purchasing a gift set which included a 200ml bottle Royal Gold Bourbon, Corruption Gin, and Strongarm Vodka…so that's exactly what we bought. Here's an overexposed picture of it!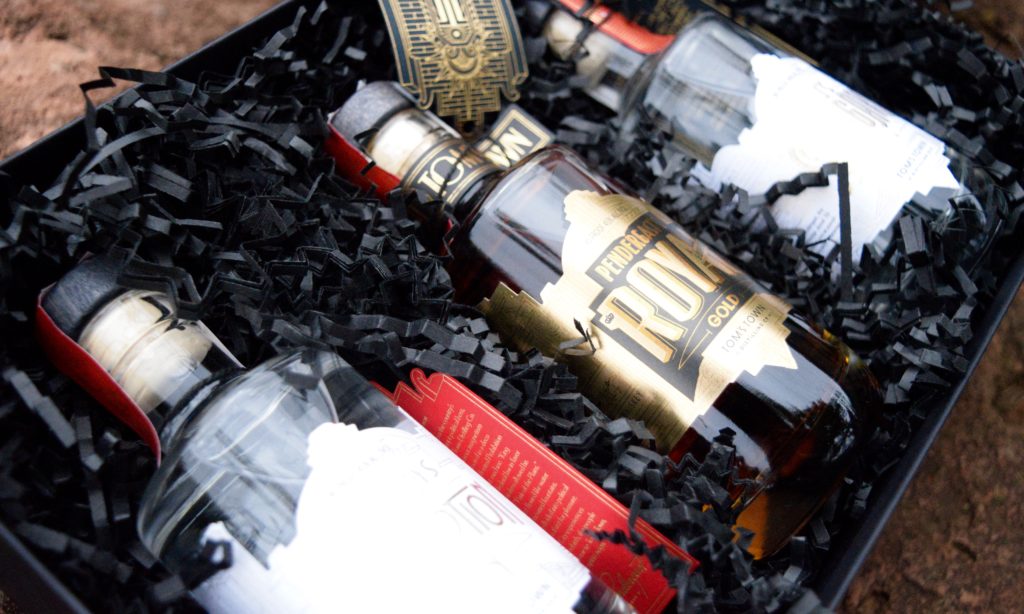 The Royal Gold Bourbon is actually really nice and ranks up there as far as MGP Bourbon juice I've had. On the nose there is a of vanilla, honey, and cinnamon and the taste is super rich with caramel, vanilla, and fruity oak. The bottles have been sitting on our shelf, still sealed, until today. I actually felt bad opening them because the gift set looks so cool. Luckily drinking is cool too.
There is also Vodka in the box too, but I'm not going to drink it and tell you about it because it's Vodka, so here's a picture of the outside of the box instead. So fancy.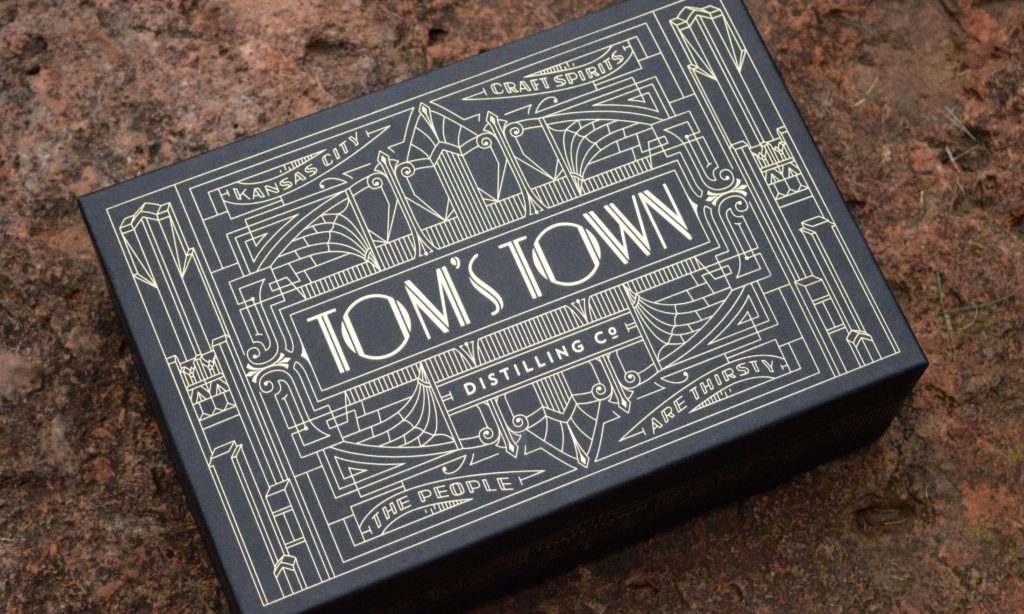 If you're in KC, hit up Tom's Town. We had a blast checking the place out. Definitely go on the tour, drink a few of the cocktails they make with their spirits, and soak in all the ornate 20's era decor. We can't wait to go back.