Last Thursday Kate and I raced east towards the Bluegrass State filled with excitement and anxiety about meeting a up with a group of strangers. The Whiskey Catfish Society was a real thing now (check out Part 1 if you missed how that went down) and we knew that at least 20 or so people were also headed towards Kentucky so they, like us, could meet the people behind the Instagram handles, blogs, and podcasts that they followed.
Kate and I had an amazing dinner at Milkwood after arriving in Louisville Thursday night, and upon checking the 'ol internet we realized that 2 members of the group were at a bar right across the street. So when our meal was finished we walked to that bar, nervously scanned the room, spotted them, and introduced ourselves. Instead of an awkward introduction we were immediately greeted with huge hugs. The moment we met Bill and Emily was the moment that we knew it was going to be an great weekend filled with amazing people.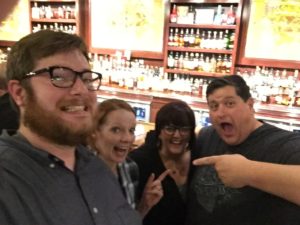 Friday afternoon we encountered our next pair of Catfish as we hooked up with Steve and Cas from Hearts2Tails. We met them at The Brown Hotel and recorded a fun interview with Tom from The Aroma Academy where we learned about smells and things. Hopefully that recording turned out well enough to produce an episode, so keep an eye on the Hearts2Tails feed so you can check it out if it does.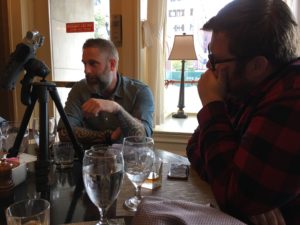 Full of delicious Hot Brown Sandwiches and Evan Williams Single Barrel, we spent the afternoon recovering and preparing for the evening's event: A giant blind date with more Catfish at Haymarket, a killer Bourbon bar in downtown Louisville.
Now, I've never been on a blind date (yet), nor had I ever met a person in real-life that I connected with on the internet, so this whole experience was one I couldn't predict. As we walked into Haymarket with Steve and Cas I was nervous, but it took like one second for that feeling to be replaced by excitement as I started recognizing the people huddled around the bar looking at the whiskey list. In the interest of time (and so I don't bore you) I'll just say that we drank, we laughed, we some drank more, and I'm pretty sure that I hugged a bunch of people. Good times.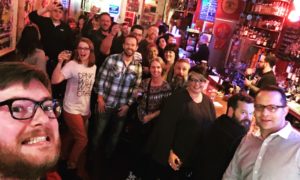 We awoke on Saturday with a bunch of new friends, slightly hungover, and ready to go on a tour of one of Kentucky's newest distilleries, Kentucky Peerless. After shoving a bunch of coffee, cheesy grits, and biscuits and duck gravy in my face at The Gralehaus we headed to the distillery.
Upon arriving at Kentucky Peerless we were greeted by Corky Taylor, Chairman and 4th Generation of the Kentucky Peerless brand, and led into room where their Distilled Spirits Plant (DSP) number of 50 is proudly represented which gives a good feeling for how historic this brand is. For reference, Jim Beam's DSP number is 230. Corky was awesome. He was kind enough to kick off our tour by going through the entire history of Kentucky Peerless (some of which you can find here), his family, and telling us some hilarious stories of his school days with the Allman Brothers and Al Gore. Corky then handed us off to distiller Caleb Kilburn for a stroll around the facility.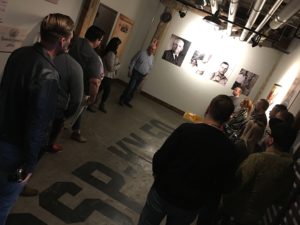 Kentucky Peerless is doing things right. Whether it's a "bad business decision" or not as indicated by both Corkey and Caleb, they aren't going to source whiskey while waiting on their distillate to come of age. The distillery will be producing both Bourbon and Rye Whiskey, and after getting a feel for Corky and Caleb's passion for the product I can't wait until this stuff hits the shelves. They refuse to cut a single corner, and this stuff has real potential to be something special. In the mean time they are releasing candy-like moonshine products which is pretty damn smart in today's market. To be honest, I would rather see a chocolate pie flavored moonshine on the shelf than a 3 month old Bourbon. I'm looking at you, Hudson.
Anyways.
The tour was fantastic. Caleb is smarter than I'll ever be. He's in his mid-20's and has already played a huge part in putting an entire distillery together. His passion for everything science-y allowed him to have a hand in multiple aspects of the distillery's construction, from the type of still down to the specs of the pipe fittings. When the technical consultant for the distillery's software fell short, Caleb decided to attend a two-day programming workshop and code the shit himself. He's also as humble as he is smart, refusing the title of Master Distiller until he "earns" it, and being quick to give most the of the credit for his work to his mentors.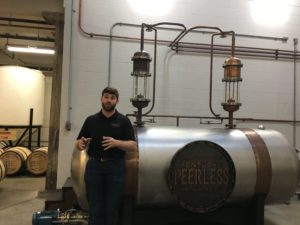 After learning the ins-and-outs of Kentucky Peerless, we met back up with Corky for a few more great stories (I could seriously listen to him tell stories all day) we were given the super cool opportunity to sign a barrel that will soon be filled with Bourbon. We all excitedly huddled around the barrel, trading off the Sharpies and making our marks. It was such a cool thing to be able to do.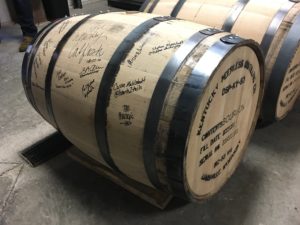 We ended our tour in a private room lined with leather couches as Corky showed off the oldest bottle of whiskey I've ever seen. Sitting on the bar was a bottle of T.B. Ripy Bourbon from the spring of 1898. 1898! Ripy is known today as Wild Turkey, and seeing this bottle was absolutley amazing. Corky may not have this bottle much longer, however, as Bill Thomas of Jack Rose in DC will soon be paying Kentucky Peerless a visit in an attempt to buy it. If you are at Jack Rose and have a few hundred bucks to spend on a pour, do it. I would.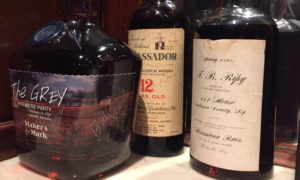 After a couple more Corky stories and a walk through his office to view a picture of a buffalo he saw with a number "50" tag (a reference to their DSP number), we said our goodbyes. It was a great afternoon with our new friends, and we can't thank Corky, Caleb and their team enough for hosting us.
The Whiskey Catfish parted ways in order to get some relaxation in before the main event later that evening: The Whiskey Potluck. Part 3 coming soon…