In case you hadn't been keeping up, Kate and I had the amazing opportunity to meet some online whiskey friends in Louisville two weeks ago, you can see how that all came about in Part 1 and Part 2.
With our first blind date behind us and a group tour in the books with those of us already in Louisville, the rest of the Whiskey Catfish Society funneled into town on Saturday evening and began getting ready, both mentally and physically, for the event that was to be the centerpiece of the weekend: The Whiskey Potluck.
This party was no joke. We (well, mostly Steve) had organized bottle raffles, a blind tasting contest, and a fantastic sample trade. A friend of a fellow Catfish let us use his art space for the event which was super cool. Everyone brought at least one great bottle to share, which once they were collected was an absolutely amazing sight. Snacks were laid out, Glencairns were at the ready, and the music was playing.
After a quick speech from Steve, It was time to party.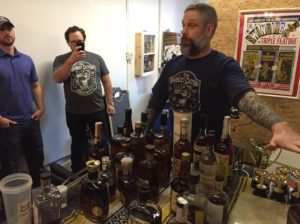 Society member Michael had the honors of cracking the inaugural bottle of The Whiskey Catfish Society. He graced the group with a sealed bottle of Jefferson's Presidential Select 18, a wheated Bourbon from Stitzel-Weller. It's hard to start a party much better than that. Up next was the mid 2000's age-stated Old Weller Antique 107 that Kate and I brought. It's hard to explain how cool it felt to crack that bottle open with a group of people that knew what it was and were excited to try it. It's something that we don't get to experience at home, and it filled me with warm fuzzy feelings.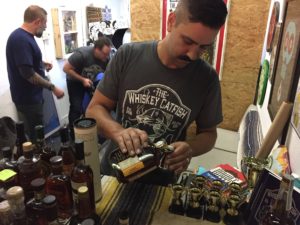 From there we just started opening shit, and it was awesome. Old Rip 10, Willett 12, Michter's 10 Year Rye, nothing was safe. Eventually we made it to Bill's bottle of 1968 Beam's Choice, and what a treat it was. Steve and Cas from Hearts2Tails set up to record a joint podcast with Will from the Podcask to capture the fun and things quickly got loud as we all got warmed up and got settled in for a long night of delicious whiskey.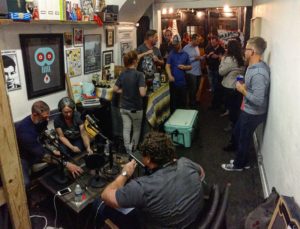 Steve had brought an unmarked bottle of Bourbon as a challenge to see if anyone could guess what it was just from tasting it, with the winner taking home a new bottle of the mystery juice. It was a blast to get to read all the answers submitted by the attendees, and while most people guessed various Jim Beam expressions, Kate ended up freaking nailing it and knew the exact whiskey, 1792 Full Proof. She's amazing.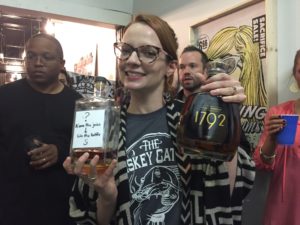 With everyone good and buzzed, we decided to get our sample trade underway. It wasn't the best managed situation (we'll do better next year), but nonetheless the Catfish got to blindly select the 2oz bottles and find out what they got to take home. People brought some killer samples, but the one most were after was the 1oz of A.H. Hirsch 16 that Michael brought. For those of you who aren't super into whiskey, this sample stands out as A.H. Hirsch 16 is a unicorn in the Bourbon world. It was distilled in 1974, released in 1990, and is generally sold for thousands of dollars per bottle. Also, it's freaking delicious. I was lucky enough to drink some in New Orleans for the low low price of $47 an ounce, and it was totally worth it. Anyways, that sample was drawn almost immediately by Tim. After celebration and applause, the rest of the group got their turn.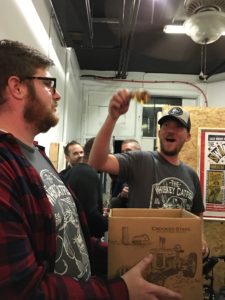 As the evening progressed and my sobriety slowly departed my body, it was time to start handing out some awards. I had purchased some incredibly fancy plastic trophies for the event with the intention of making up random accomplishments over the course of the party, and that's exactly what happened. These were given out throughout the night, and I figured it would be a good place to wrap up the description of the event since it kind of provides a nice summary of the evening, and honestly I can't remember a whole lot more from that night. What I can tell you is that we got to hang out with a bunch of fantastic people, have some hilarious conversations, and I really felt at home with this group. So, here are the awards, and stay tuned for the final post in the Whiskey Catfish series about our tour at Castle and Key.
Awards
The Oldest Bottle (1968 Jim Beam) & Best Hug Award – Bill (@billalex70)
The Furthest Traveled Award – Tim (@timmergund)
The Selfless Winner Award (also known as The Oprah Award) – Jerome (@bourbonbrotha)
The "Holy Crap That's Gross" Award (for bringing American Barrels) – Will (@thepodcask)
The Unicorn Award (for bringing A.H. Hirsch and JPS 18) – Michael (@bourbon_peacock)
The Welcoming Host Award (for providing the event space) – Matt (@mattscottbarnes)
The Organizer Award (for organizing the event) – Steve (@fletcher_whiskeydog)
The "That Guy" Award (for being the drunkest) – James (@breaking_bourbon). Silver and Bronze in this category go to Will and Michael, respectively.