Oklahoma City's newest bar is upon us, and it's not like one you've ever seen. The Bunker Club, the newest concept from The Pump owners Ian and Hailey McDermid, is opening very soon next door to the Tower Theater on 23rd street. The Bunker, considered a "high dive" bar, sports a Cold War-era theme and is decked out with gold sparkly vinyl seats, vintage TVs that will loop images such as nuclear tests, and of course a huge mural featuring the likes of Marx, Lenin, Stalin, and other fan favorites.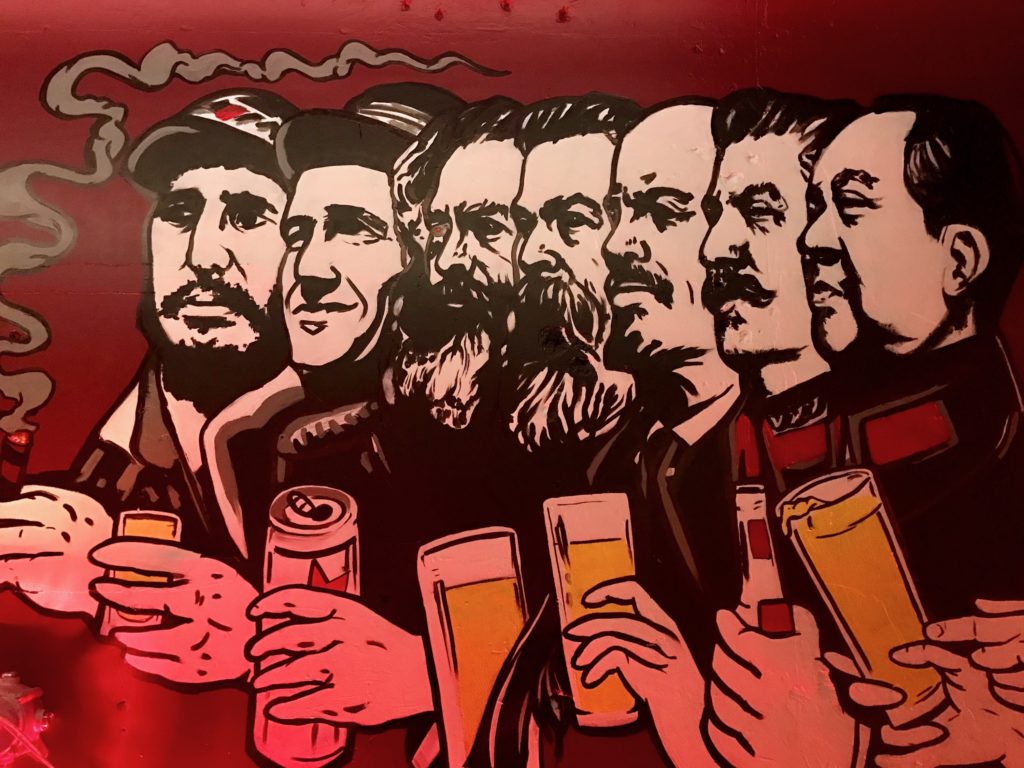 The Bunker Club features around beer 20 taps and is billed as an "every man's craft beer bar", according to Joey Powell, the Bunker's manager. There will be a focus on local breweries and there will be "no overpriced beers". A decent amount of rotating tabs will be available as well which will feature local offerings from breweries like Vanessa House, Anthem, Roughtail, and COOP (among others) and it's looking like there may be a keg of KBS ready to go for the bar's grand opening. The bar will also offer Prosecco on tap and will offer some packaged beverages such as "hipster beers" and some cider.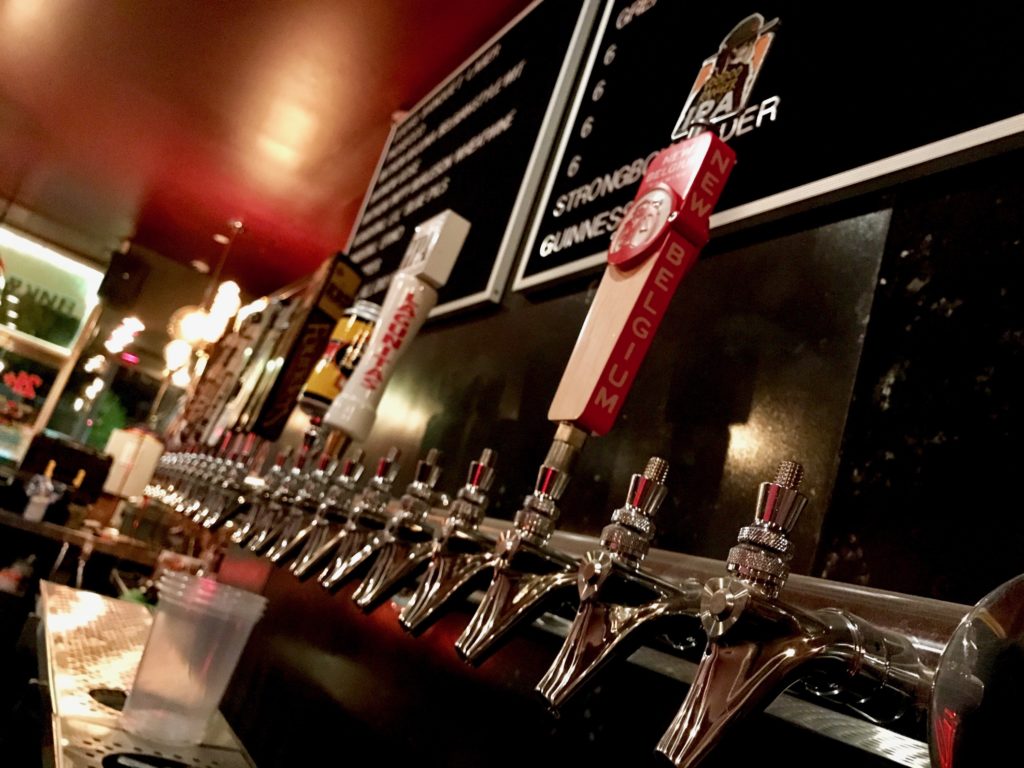 And now let's talk about the cocktails…oh the cocktails. We got to hang out with the staff and management of The Bunker Club last weekend as they tested their theme appropriate cocktail menu on each other (and on us), and I can't wait to go back and drink them all again. Once you try them, it becomes immediately obvious that the crew has put a ton of thought into building and refining the recipes. The Bunker does all of their own infusions and makes their ingredients in house wherever possible which serves to make these drinks incredibly fresh and unique.
"Black List" is the bar's smokey take on an Old Fashioned, featuring peppery scotch and tobacco bitters. "Dr. Strangelove" is a Bourbon based concoction with pistachio cream of coconut among other things which ends up as a sweet, nutty, and fruity drink that resembles pistachio ice cream with cherries. "Up & Atom" is The Bunker's "coffee pounder" meant to be enjoyed quickly and shows off a bright, rich coffee and cream vibe.
Then there were some that caught me completely off guard and totally stole the show.
The "Chewie", named for Ian and Hailey's dog, is a tequila based cocktail that is sweet and spicy with some huge citrus and tropical notes thanks to grapefruit and house-made jalapeño pineapple syrup. The cocktail features ancho chili liqueur and a freaking delicious chili salt that puts the whole thing over the top. Then there was my favorite of the evening, the "JFK". Avocado infused rum gives the "JFK" a rich texture and when mixed with falernum, lime, and salt it puts a fantastic savory spin on a daiquiri concept. Who would have thought that my favorite cocktails would be tequila and rum based? Good job, Bunker team.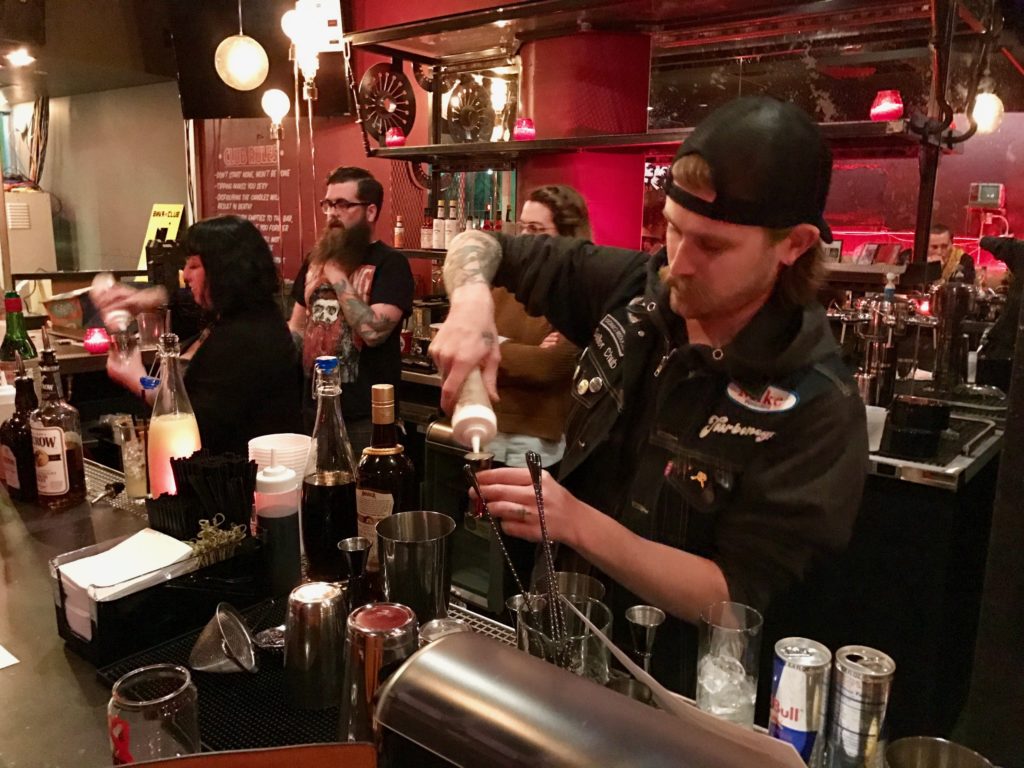 Those cocktails, along with a few more, will be available from around $6-$10 and I recommend working your way through the whole list as they are all incredibly unique and great in their own ways.
The Bunker Club will be opening in the next week or so and might sneak up on you. When asked when the grand opening is, Joey replied "When the sign's on, we open" so keep your eyes peeled. Might be a good idea to arrange a ride home too so you can drink all the things. That's what we'll be doing.
See you at The Bunker Club!