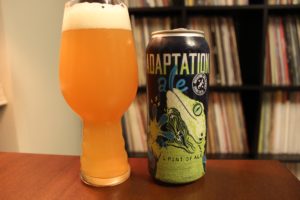 My lovely cohort Kris saved me a trip to Midwest City and grabbed a few four packs at the release of Adaptation batch 9, though he robbed me of a chance to drink in the taproom! For batch nine, Golden Promise malts are paired with oats and wheat for that creamy mouthfeel, and hopped with Denali, Idaho 7 and Calypso. Additionally, Roughtail has added a "boat load" of pineapple puree.
Company: Roughtail Brewing Co.
Location: Midwest City, OK
ABV: 7.9%
Style/Description: American Style IPA
Price: $16 per four pack of 16 oz cans
Appearance: Pours a cloudy opaque gold, with a fluffy white head and plenty of lace.
Nose: Plenty of pineapple and orange juice, along with other tasty tropicals like mango and passionfruit. Some mild spicy hops, light pine.
Taste: Pineapple comes through sweetly, with some more aggressive and bitter orange and lemon flavors. The bitter hops overtake some of the pineapple, I was really expecting for more with actual pineapple puree used. Carbonation is moderate, with a thick creamy mouthfeel, perfect.
Finish: Citrus peel bitterness remains on the palette, with a bit of stickiness.
Overall: As usual Roughtail delivers an excellent East Coast style IPA, with appearance and mouthfeel spot on, and bursting with tropical fruits. This one seems very similar to the last batch (as I recall), despite the addition of the pineapple puree. Roughtail seems confident that four packs will last through the weekend, but don't sleep!
Rating: 4.0/5