We've been running Barrels and Mash for over two years now and the best part about it has been the opportunities it's provided to meet new people and learn new things. Recently we had one such opportunity when we had the chance to have a private Scotch tasting and cigar pairing with Allan Roth, Brand Ambassador of Glenfiddich, and Todd Naifeh, owner of ZT Cigars. The plan was to meet Allan and Todd at ZT for a quick 30-minute Scotch tasting then go our separate ways while the pair headed to Smoklahoma, an annual Oklahoma City cigar event.
The whisky gods had other plans.
I arrived at ZT Cigars around noon and was greeted by Allan, a sharp dressed man with "Scotch Brand Ambassador" written all over him. In other words, he was very well spoken and looked cool. We headed past the incredible collection of glossy wood humidors and lighters I could never afford, around a massive walk in humidor, and through a room full of member's private lockers to the Cigar Lounge where I met Todd, a guy about my size with an immediately welcoming presence. I'm not sure why I expected otherwise…actually yes I do, it was this picture. Dude looks intimidating, right? Anyways, we got the formalities out of the way and got to talking while Allan arranged what ended up being an amazing tasting experience. For the sake of organization I'll attempt to categorize our conversation by what we were drinking since that's how my brain tends to recall things anyways. Let's do it.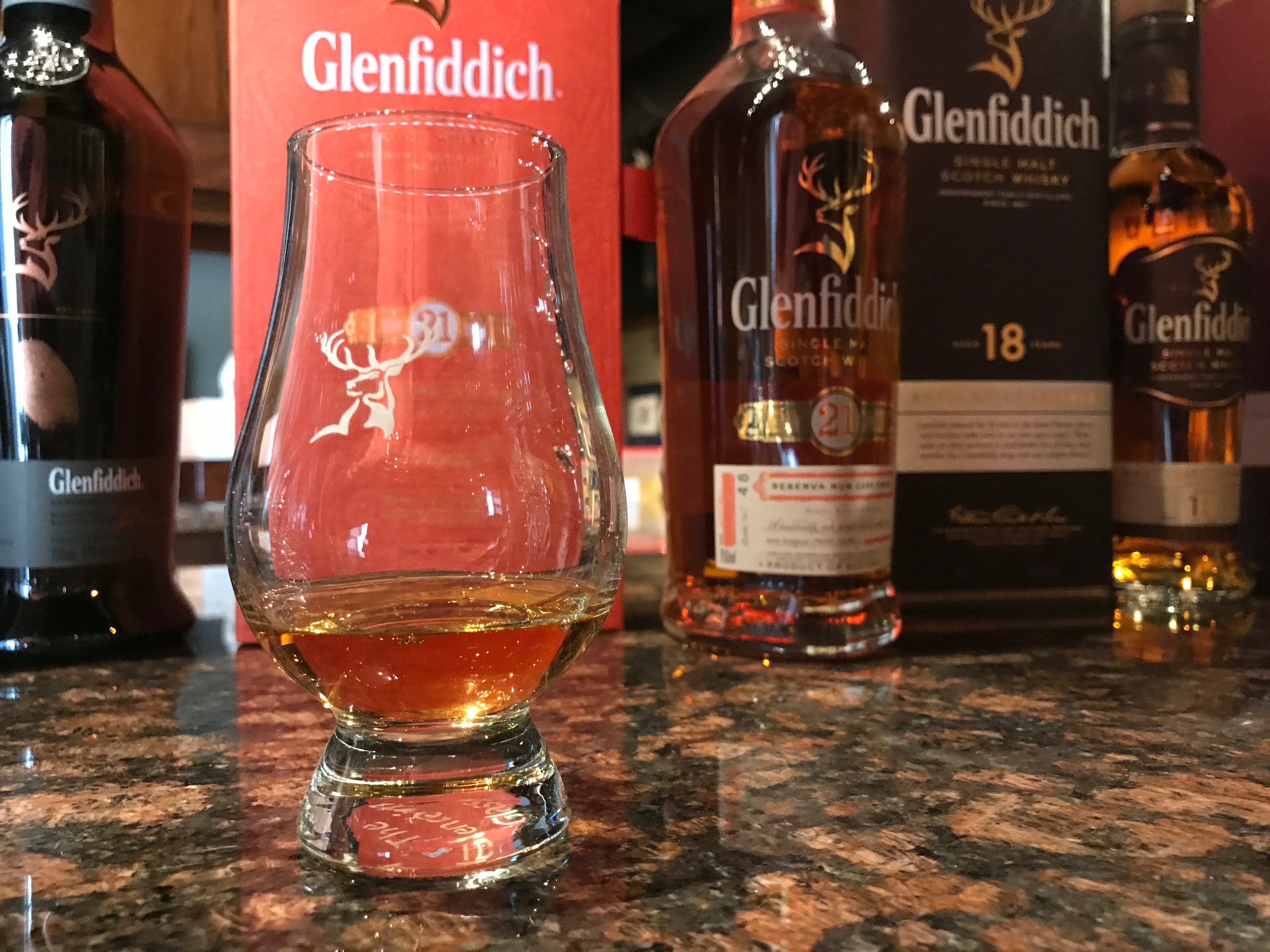 Pour 1 – Glenfiddich 21
Allan didn't mess around and came out swinging with a 21-year-old expression. One of the first things that he said about it was that he considered it a "breakfast whisky" which immediately grabbed my attention and helped bring some casual fun to the discussion. Allan talked about Glenfiddich and its history, remarking that the distillery will hit its 130th year of production this Christmas, which is incredible. They are also primarily responsible for introducing single malt Scotch in the United States, which they did in 1963.
It was at this point that we busted out the first cigar, an EP Carillo, which according to Todd carried some cream, leather, and light fruit with it. While I don't know anything about cigars, I was excited to dive in and take this experience head on. The light fruity things in the whisky like pear, vanilla, and apricot worked really well with the cigar and the Carillo really amped up the texture of things with that creaminess but without one overpowering the other.
This tasting was off to a good start.
Pour 2 – Glenfiddich 15
Next up was the 15-year-old expression, aged in Oloroso Sherry, used Bourbon, and toasted new oak casks. We were still puffing on that Carillo and it brought out some really great nuttiness and honey in the whisky. The 15 is a solera aged whisky, meaning that over the years older whisky is blended with newer make which leads to a consistent product with a ton of complexity. This whisky had some interesting tropical notes to it and really was a nice contrast to the more delicate 21-year.
At this point I learned about cigars with Connecticut wrappers before Todd told us about his trip to Cuba since the embargo was lifted. I nodded and smiled through most of the cigar talk as I tried not to get sucked in to yet another (expensive) hobby.
Pour 3 – Glenfiddich 14
Two pours in and this day was getting better and better. I had eased into the cigar and was puffing away like a champ as we talked about our favorite whisk(e)ys and discussed the progression from my love for American Whiskey and my looming transition into spirits from the other side of the pond. This was a perfect topic of discussion as Allan poured the 14-year-old expression that is finished in new American charred oak barrels.
Not surprisingly this is the boldest sip of the tasting so far with those classic Bourbon barrel notes of black pepper and brown sugar along with vanilla, and earthy vibes. For the sake of science Todd and Allan suggested moving on to another cigar as the 14 was blowing away the smooth stylings of the Carillo. So we busted out Davidoff Escurio, a bolder smoke that should stand up to the rest of the lineup, and stand up it did. It complemented the black pepper spice very well and balanced things out quite a bit not allowing itself to be swallowed by that charred oak goodness.
At this point Allan and I went on a long tangent around Bourbon, Scotch, and how we got into each. We discussed the liquor laws in Oklahoma, and Allan's home and background in New York. The more I got to know this guy the more I liked him.
Pour 4 – Glenfiddich 18
Moving on to what Allan described as Glenfiddich's "cigar dram" I was understanding that I was in very good hands with these people, and all of the intimidation that I felt about the world of cigars and Scotch was being washed away, one delicious sip at a time. Funny how whisky does that.
Anyways, Glenfiddich 18 is referred to as a "house style" whisky with no finish, meaning all the focus is on the Spanish Oloroso Sherry and American Oak barrels and time without any extra steps at the end to add complexity, that's my kind of whisky.
This Scotch is a single malt with 80% being aged in used Bourbon barrels and 20% in Oloroso Sherry puncheons. The moment I put it to my lips I knew it was the one for me. There is a sweetness to it that is spot on with the perfect amount of complex oak dryness and just a touch of baking spices that really send it over the top. The finish has some spice to it that reminds me of Bourbon without being to overt about it.
The body and complexity of this one also paired perfectly with that Davidoff and made baking spice and leathery, oaky things happen that made me feel feelings. I think I finally understand the allure of cigars and Scotch together. I always saw them as two separate entities trying not to overpower each other, but when a complementary pair like this comes along it makes total sense. The 18 and the Davidoff bring out the best qualities of each other and make for quite the experience.
As sad as it is, it's time to move on.
Pour 5 – Glenfiddich Project XX (Release 2)
The last of our tasting is from Glenfiddich's Experimental series. The first in this series was an IPA cask-finished whisky and the second, which we got to try, is something totally different. For this whisky Glenfiddich allowed 20 Brand Ambassadors from around the world to select a delicious whisky in a huge tasting, then each whisky was blended by Glenfiddich's master blender Brian Kinsman. The result is an incredibly complex pour from 17 bourbon-barrel aged whiskies, 2 from sherry barrels, and 1 port finished expression.
The personalities of each of these components were expertly married and I enjoyed this one quite a bit, but for me it didn't stand up to the more traditional, straight forward expressions we had enjoyed.
With the first Project XX using IPA casks, this opened the discussion into the world of beer, which meant I had an opportunity to discuss the fantastic craft beer scene in Oklahoma. It really is impressive and so cool to see people in the industry from out of state respond so well to it.
---
With our cigars gone and our Glencairn's empty I began to part ways with Allan and Todd. Todd was getting ready to head to Smoklahoma, a huge cigar and whisky expo celebrating its second year. I was going to relax that night at home, but after an afternoon with Glenfiddich and smoke, I decided what the hell, why miss out on a great event in OKC that is supporting a local business and is a world I know nothing about?
So I said goodbye to the guy for a short while as I headed home to regroup and find a date for the evening's festivities.
To be continued…