For the last 11 years Woodford Reserve has been charging people $100 for their limited edition Master's Collection released each fall. Last year's was the first we reviewed, and our friend Jeff wasn't a fan, hopefully this year's brings some heat to the game. Let's check out a snippet of what Woodford has to say about the 2016 expression:
Brandy, a spirit distilled from wine or fruit, is often aged in oak barrels. These may be used a number of times because Brandy does not have the new, charred barrel requirement that our Kentucky Bourbon does. Finishing fully matured Woodford Reserve in these barrels does not add any new flavors to the whiskey, but instead accentuates Woodford Reserve's rich dried fruit and nut characteristics that come from our grain recipe and long fermentation process.
Brandy casks, you say? Alright Woodford, you got my $100, let's see what you got.
Company:  Brown-Foreman
Distillery:  Woodford Reserve Distillery
Mash Bill: 72% corn, 18% rye, 10% malted barley
Age: NAS
ABV: 45.2% (90.4 proof)
Released: November 2016
Price: $100
Color: Pale maroon honey
Nose: Smells like Woodford. On top of the unmistakable Woodford nose there are huge layers of red fruit like cherry and pomegranate. There's even a touch of a tropical vibe kind of like guava. Kate said it reminds her of that Fruit Stripe gum which she also mentioned whilst trying the 1792 Port Finish. Interesting.
Behind all the fruit is a definite backbone of grain with some dry oak in there resulting in a somewhat young-smelling aroma. I'm not getting any Brandy.
Taste: Candy corn sweetness is the first thing that punches me in the mouth. This stuff is incredibly sweet with the Brandy finish really removing any dryness, yet not the grain from the mix. Fruity zebra gum and fruit punch are definitely making an appearance along with faint sweet, boozy Brandy notes and definite raisin note. The texture isn't bad with a buttery mouthfeel but even with all the sweetness this stuff is still pretty grain-forward with rye vibes and black pepper.
Finish: Again, very sweet but with a twinge of astringent ethanol joining the party. There is some faint cinnamon, peanut, and some raw grain that creeps in as well with a bitter pomegranate vibe left as the lingering note.
Overall: Well shit. Ok, so if you plan to finish a bourbon with no intention of adding new flavors/complexity, but only to amplify the grain-forwardness of the whiskey, maybe don't charge $100 for it? The insane sweetness, raw grain, and astringent finish just didn't leave me impressed especially when I was hoping for some Brandy layers.
This may be my last time gambling on a bottle of Master's Collection unless they for real get some REAL Brandy in the mix. Here's what I'm thinking: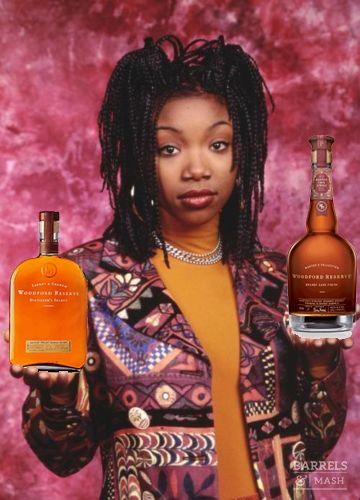 Rating: 2.5/5